Star Trek Collectibles

Click this photo to order
STAR TREK™ Watch Makes an Out-of-this-World Collectible STAR TREK™ Gift or Memorabilia! Exclusive!
STAR TREK™ fans, now you can boldly go anywhere in the galaxy, look good, and even without warp-speed, be on time! Put your phasers on stun-ning, because this handsome STAR TREK watch is handcrafted in stainless steel, with a bezel and band accented in rich 24K-gold plating.
And Scotty would be proud, because this fabulous STAR TREK jewelry is powered by a precision quartz movement. A golden replica of the famous U.S.S. Enterprise™ and the STAR TREK logo stand out against the dramatic black watch dial. The case back is finely engraved with the famous line, "Live Long and Prosper." It even arrives in a custom case, so it makes the ideal collectible STAR TREK gift for a fellow fan or the perfect addition to your collection of STAR TREK memorabilia. Don't wait, demand could go super-nova, so order now!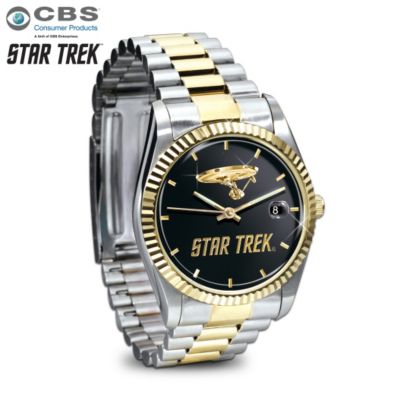 Click the photo to order
Exclusive Collectible Star Trek Figurine Collection with U.S.S. Enterprise NCC-1701 Figurine! Awesome Star Trek Memorabilia
Commanded by Captain James T. Kirk, the U.S.S. Enterprise® traveled warp speed across the galaxies! Now, a collectible Star Trek figurine collection "boldly goes where no man has gone before™"! The mission begins with Issue One, Transporter Room and Arena. Soon you'll thrill to Issue Two, The Trouble with Tribbles and Amok Time and additional 2-piece collectible Star Trek figurine sets, each a separate issue to follow.‡ Issue Four, U.S.S. Enterprise, comes with display and base.
Be transported back to your favorite Star Trek episodes with this Star Trek memorabilia collection, available only from Hawthorne Village. Highly detailed sculpting in fine artist's resin makes the scene in each collectible Star Trek figurine in this collection come to life. The U.S.S. Enterprise NCC-1701 figurine is handcrafted and hand-painted - and even lights up! Strong demand is anticipated for this Star Trek fan gift, and you won't want to miss out.
STAR TREK Embroidered Leather Jacket

Whether you travel where "no one has gone before" or down a well-trodden path, if you're ready for the final frontier of adventure, look no further. The exclusive STAR TREK embroidered leather jacket lets you boldly discover new worlds of comfort, in a stylish tribute to a science fiction legacy. Slip inside this impressive STAR TREK apparel for men, available exclusively from The Bradford Exchange, and explore a fashion first where space, taste and imagination unite. Custom-crafted of rugged black leather, this unique STAR TREK clothing is decorated with distinctive - yet understated - STAR TREK imagery. The U.S.S. Enterprise and STAR TREK logo star in golden embroidery across the back, while an arrowhead-shaped Enterprise Command Delta Shield and the U.S.S. Enterprise NCC-1701 code numbers add flair to the front and sleeve. As a stellar finishing touch, Starfleet insignia zipper pulls mark the two front pockets and zippered front of this handsome men's black leather jacket. Set a course for timeless style in the STAR TREK embroidered apparel. It would be highly illogical to pass up. Click on the picture and Order now!

Web Design by Genesis Creations
©Copyright 2002-2013 San Diego Paranormal. Copying content or pictures from this site is prohibited. Copying of any portion of this site for commercial use is expressly prohibited.