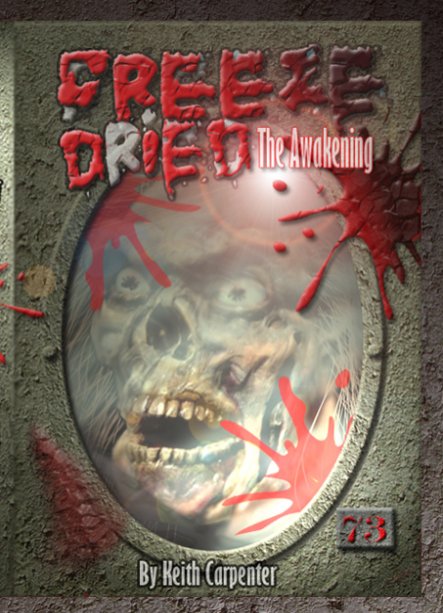 Freeze Dried The Awakening
By Keith Carpenter
When a wealthy man named Bill Alderman is diagnosed with an inoperable brain tumor, he decides to spend 2.5 million dollars to be frozen in stasis by a cryogenics company Eternal Slumber until a cure for his tumor can be found and he can be awakened and healed. During his sixteen year slumber the company decides to cut some corners and they replace a crucial chemical used in the freezing process, with a low cost alternative. The results are devastating when the fist patient they test the new drug on, flat lines while in stasis only to have her dead corpse reanimate and become a blood crazed cannibalistic monster. The reanimated patient Mrs. Agnes Morehead attacks the staff and kills them, causing a zombie plague that kills everyone and leaves the building to ruin, but the infected escape and the plagues spreads like wild fire. Three months after the start of the zombie plague, Bill's cryo chamber resets automatically prematurely awakening him in this devastated world full of walking corpses bent on devouring every living thing in sight and Bill finds himself fighting for his life just to survive one day at a time.

Buy it now on Amazon.com in paperback and Kindle formats.

Web Design by: Genesis Creations Entertainment
©Copyright 2002-2020 San Diego Paranormal. Copying content or pictures from this site is prohibited. Copying of any portion of this site for commercial use is expressly prohibited.