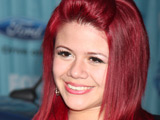 WENN
The Bel Air mansion which houses this season's American Idol contestants is reportedly haunted.
According to People, the nine-room property has a ghost named Phyllis.
The spectre is described as "a friendly troublemaker" and is said to have taken up residency in Allsion Iraheta's room.
"Allison hears something in her room every night," ousted contestant Anoop Desai said. "I don't know if someone's just creeping around in there or what."
"She's heard growls. I was like, 'What?!' It's craziness," added former hopeful Lil Rounds. "The rest of the girls swear they saw glimpses of her and different things like that, but I never saw it."
The singers who claim to have seen the apparition said that it is "like a white shadow walking across the room."