Photo by: Columbia pictures / courtesy Everett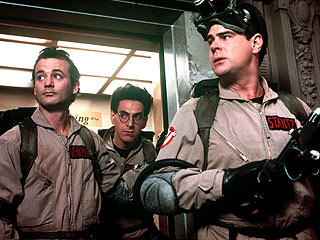 While the brand new movie
Paranormal Activity
is, er, knocking 'em dead at the box office, other ghostly spirits have been haunting us for centuries – and not all of them should be welcomed with open arms, according to experts.
Appearing on a special Halloween edition of CNN's
Larry King Live
Friday, a host of ghosthunters, paranormal activists and psychics – as well as ghost victim Joan Rivers and
Ghostbusters
star Dan Aykroyd and his séance authority father, Peter Aykroyd – debunked the disbelievers, often with jaw-dropping stories.
Rivers delivered a seriously convincing account about how a malicious spirit was haunting her New York apartment – keeping the place cold, causing havoc with the electrical power and scaring her dogs from entering the residence. When she told her elevator man what was going on, he said, "Sounds like Mrs. Spencer [the former occupant] is back."
"I used to say, this is stupid, this is nonsense," Rivers said of her unseen but clearly felt visitor. Then, "at one point, you cannot say this anymore. Something is going on here."
Called a Ghostbuster
Rivers said she rid herself of Mrs. Spencer by finding a ghostbuster who "cleansed" the apartment, using various symbols (a specific type of sword wrapped in a sheet, among them) and holding a "white Mass" at midnight. Rivers said the woman took no money, which reinforced the comedian's belief in the woman's sincerity.
Sure enough, the ritual worked. "Thank God my dogs would walk back in[to the apartment]," said Rivers. New York-based psychic counselor and author (
The 5 Rules of Thought: How to Use the Power of Your Mind to Get What You Want
) said Rivers's experience underscores the fact that some spirits are unhappy. Mrs. Spencer, obviously, refused to accept the fact she was dead, and home renovations can often stir up ill will.
"They're not all happy poltergeists, fun and games, Casper [the friendly ghost] entities," warned Browne. "Some are really negative."
Conversely, offered Chip Coffey, a medium who appears on A&E's
Psychic Kids
, there can be positive encounters. It took nine years after his mother's death for him to "see" her. Finally, she appeared on his lawn for about three to five seconds. "It was comforting," he said.
Trumpets Flew Through Air
The Aykroyds' appearance was not only because Dan had co-written and costarred in the 1984 blockbuster comedy about mischief makers from the Other World – he also said the possibility of a
Ghostbusters 3
, with original stars Bill Murray, Sigourney Weaver and a new crop of kids, "looks good" – but because dad Peter Aykroyd is the author of the new
A History of Ghosts: The True Story of Séances, Mediums, Ghosts and Ghostbusters
.
The book, for which Dan wrote the foreword, is based on 83 handwritten journals left by Peter's grandfather, Dr. Samuel A. Aykroyd, who conducted séances in the home. In the course of these gatherings, trumpets floated, tables tipped and handwritten messages were delivered, apparently from the Other Side.
Did you think you grew up in a nutty house, King asked Dan Aykroyd. "I just kind of grew up in it," he said, shrugging off the unusual circumstances that would occur. Dan also quoted the pioneer Austrian-born, American paranormal researcher Hans Holzer (1920-2009), who said that the once we die, the energy of the soul cannot be destroyed, and can travel through time and space.
On that note, King asked Peter Aykroyd if these spirits can go into our bedrooms and watch intimacy. "Absolutely," replied the 87-year-old. But also surrounding us, said the elder Aykroyd, are guardian angels.