https://www.eaglenewsonline.com/news/new/2018/06/11/great-granddaughter-of-wizard-of-oz-author-talks-paranormal-family-tradition/
Great granddaughter of "Wizard of Oz" author talks paranormal family tradition
Jun 11, 2018
---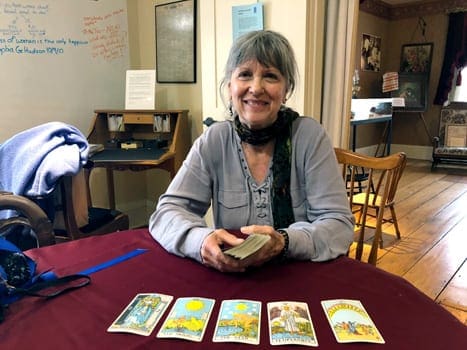 ---
By Lauren Young
Staff Writer
Morena, the great-granddaughter of legendary "Wizard of Oz" author L. Frank Baum and the great-great-great-granddaughter of legendary suffragist and activist Matilda Joslyn Gage, never necessarily "wanted" her current profession, but rather, she was born to it.
On June 5, Morena, a practicing psychotherapist specializing in sandplay and transpersonal psychotherapy, performed five personal tarot card readings at the Matilda Joslyn Gage Home in Fayetteville as a fundraising effort on behalf of the foundation.
And in a way it is, as she also grew up with the same values held by her famous great-great-great grandmother.
Morena said she has always felt a connection to the paranormal and, in fact, carries on a multi-generational Gage-Baum family tradition of investigating and practicing the supernatural, as Morena herself has worked as a licensed marriage, family and child psychotherapist and transpersonal psychologist for over 50 years. She blends Jungian psychology and spirituality in her work to help clients "focus on the integration of mind, body and spirit to establish a sense of inner peace, wholeness and healthy connections with others," according to Morena's website.
"It's been confusing sometimes," she said. "People have always talked to me and I've always seen things. As I've gotten older I see more things. It's getting to know myself in a way."
"The metaphysical and world of imagery and how imagery communicates … certainly the tarot cards are one way that's expressed," she said. "It gives me a way to connect with people in a deeper way."
"Some people see more," said Morena. "They see more of what's going on in the physical world and the deeper places in the psyche. Some people don't see it that much, but others see it pretty easily."
"You have to be ready for it," she said. "You have to be ready to be open. The cards can show you anything, so you may have an idea about what you want to see, but you have to be open to the possibility that you might see things that are more uncomfortable, and are you ready for that? And not everybody is, and that's fine."
And like anything to do with the paranormal, what you see is up to your interpretation of it.
For Morena, she enjoys the personal conversation cards can provide, and even performed someone's first-time tarot card reading on Tuesday.
Over the years, Morena said her experience as a psychotherapist has been 'incredible" and "mind-blowing."
While some offer "quick judgements and quick advice," Morena said that instruction "doesn't help."
While Morena understands some are skeptical of tarot card readings and other forms of fortune-telling, she said it is not up to her to tell others if they are right or wrong necessarily, but will help lead them on the right path if they so choose.
As the author of "The Wisdom of Oz: Reflections of a Jungian Sandplay Therapist," Morena likes to use sandplay in her therapy, which sometimes involves using miniature "Wizard of Oz" figurines in a small sandbox. Clients can draw images in the sand, or whatever helps them visually express what words cannot.
Through this, Morena said clients will begin to see themselves "visually," and a story "starts to unfold through the imagery."
But having a safe space to do so is essential. "You have to be in a safe space and feel trust with someone, that relationship is probably the most important part of it," she said.
To learn more about The Matilda Joslyn Gage Home, located at 210 East Genesee Street in Fayetteville, visit its website at matildajoslyngage.org or call 315-637-9511 to schedule guided tours.