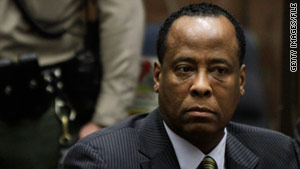 Dr. Conrad Murray has pleaded not guilty in the 2009 death of pop star Michael Jackson.
Los Angeles (CNN) -- Jury selection in the involuntary manslaughter trial of Dr. Conrad Murray, accused in the death of pop star Michael Jackson, will begin March 24, a judge ordered Monday.
Los Angeles County Superior Court Judge Michael Pastor also approved television cameras in court for the trial.
Pastor had set the trial to start March 28 when Murray invoked his right to a speedy trial during his arraignment last month. But the judge later decided it was cutting too close to the 60-day limit.
"Absolutely, we simply can't start on the last day," Pastor said.
The opening statements are likely to be delivered during the first week of April. The trial is expected to last about six weeks, according to the defense and prosecution.
Murray, who remains free on $75,000 bail, was not in court for Monday's hearing. His lawyers said he was busy earning a living with his medical practice in Las Vegas and Houston.
Pastor blocked the doctor from using his California medical license until the trial is completed. The state medical board requested that be made a provision of his bail.
Murray entered a not guilty plea at his arraignment last month.
"Your honor, I am an innocent man," Murray said.
He was Jackson's personal doctor when the pop star died June 25, 2009, from what a coroner ruled was "acute propofol intoxication," in combination with "the contributory affects of the benzodiazepines."